… Sprint doubles for Caesar, Williams, distance doubles for Lynch, UrquhartIN a record-breaking performance, Linden's Deshanna Skeete put paid to (District 11) Kenisha Phillips' hopes of taking the sprint double of the Girls' Under-16 category, while not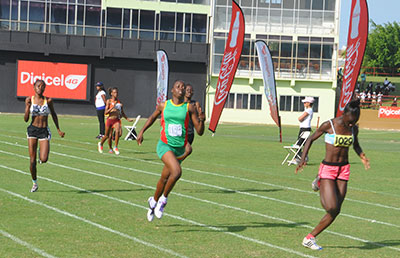 District 10's Deshanna Skeete wins the Girls' U-16 200m as District 11's Kenisha Phillips struggles to catch up.even a record-breaking performance by Claudrice McKoy in the Girls' Under-18 1500m could have helped North Georgetown (District 11) salvage their position in the athletics competition, where Upper Demerara/Kwakwani just continued to strengthen their lead.As action in the National Schools Cycling, Swimming and Track and Field Championships continued yesterday at the Guyana National Stadium, Linden's Compton Caesar, and Daniel Williams were not to be curtailed in their run-up to sprint doubles, as they helped lodge major points for District 10, as the team amassed a 100-point lead ahead of their nearest contender.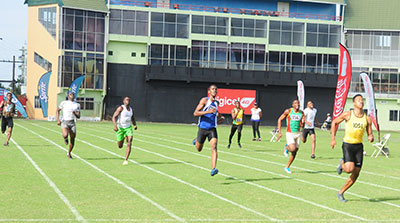 District 10's Compton Caesar took the sprint double after he copped the Boys' U-20 200m win.At the day's end with the completion of 103 finals, District 10 totalled 461.5 points, an exact 100 points ahead of West Demerara (District 3), who continued to hold on to second place as the penultimate day of competition in the Championships concluded.Howeve,r District 3 are not entirely safe in their second place, given that West Coast Berbice (District 5) are not too far behind with 345 points.Less than 20 points from third spot lie Corentyne (District 6) with 329.5 points, and another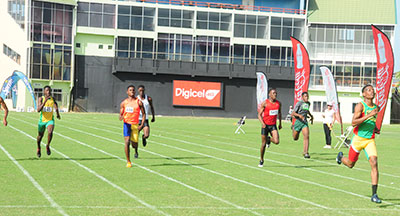 District 10's Daniel Williams cruises to the Boys' U-18 200m win, to take a sprint double.few points down are East Coast Demerara (District 4), who moved up a spot after being sixth at the end of Wednesday's results.Now holding on to sixth are North West (District 1) with 309 points, just under the 300-point mark are North Georgetown (District 11) with 299.5 points.Also in the top ten are Essequibo Coast/Pomeroon (District 2) with 255.5 points, barely edging out New Amsterdam (District 15), who have 254 points, while East Georgetown (District 12), with 253.5 points, round out the top-ten teams.Phillips' inability to surpass Skeete, even after being the one to watch, was reminiscent of District 11's strain to get past District 10 since the beginning of the athletics competition.Phillips, who later said that she started to pull up on the final straight, bowed out in the 200m clocking 25.4 seconds, equalling the time of the record that she set last year.However, that performance was not enough for her to overcome Skeete, who crossed the finish line in 25.3 seconds, to set the new record and avenge her loss to Phillips in the 100m on Wednesday.District 13 picked up third place as Tiffauna Garnett crawled in at 26.3 seconds after the race started.McKoy closed off the distance double in the Girls' Under-18 where she nicely paired the 800m win on Wednesday with the 1500m win yesterday – all the more celebrated because it was done in a record-breaking 5:06.8s time. McKoy shaved three seconds off the 5:09.3s record that Doretta Wlison set back in 2010.District 11's Samuel Lynch and Maria Urquhart also cleared distance doubles, winning the 1500m of Boys' Under-18 and Girls' Under-20 categories respectively. Lynch clocked 4:30.00s for his win, while Urquhart took victory with a time of 5:23.40s.The 200m races really had the small crowd of spectators animated, as Caesar and Williams did not disappoint. They charged to wins in their respective categories.Equalling the 22.1 seconds record set by Kevin Abbensetts in 2013, Caesar took another relaxed win as he cruised to the finish line ahead of District 12's Linton Mentis (22.7s) and District 15's Stayon Wilson (23.0s)The distaff side of this event went to District 5's Denita Jackson with a time of 26.7 seconds, surpassing the 27.3 seconds clocked by District 4's Kimberly Hassanah, who seized the second place from District 11's Ruth Sanmoogan who clocked 27.4 seconds.In the Boys' Under-18 Williams also found little challenge and took an easy win in a time of 22.7 seconds, District 4's Brian Roman struggled his way to a 23.5 seconds finish for second place, wrestling against District 13's Umkosi Vancooten (23.7s).
read more